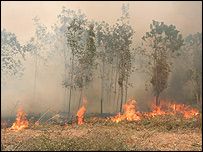 Meteorological Agency, climatology and Geophysics (BMKG) Station Airport Sultan Syarif Kasim (SSK) II Pekanbaru claim land and forest fires over the six regions in the province of Riau.

It is delivered by staff analysis BMKG Pekanbaru, Grace in Pekanbaru, Tuesday june 2, 2009.

Grace explains, based on NOAA satellites watched the last 18 known, eight focus as an indicator of a land and forest fires were detected in six districts in Riau.

Six districts Bengkalis Regency is one point the fire, District of Rokan Hulu one point, a point Regency Pelalawan, Indragiri Hulu regency one point, Kabupaten Indragiri Hilir one point a fire and Kabupaten Rokan Hilir three points of fire.

"Number eight point increase compared to the previous day with only two points of fire," he said.


BMKG also predict rain chance is very small in Riau, and it resulted in high drought index and the potential penyulutan fire in Riau are still in extreme levels.

Related to that, BMKG mengimbau people and companies not to open the forest and land in a way to avoid the occurrence of burning clouds of smoke.


Tags: